Intellect™ Free-Form Lenses
OUR TECHNOLOGY. YOUR VISION
Features and Benefits of Free-Form Technology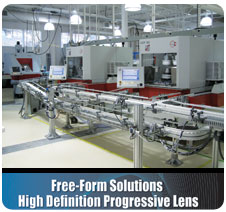 Highly sophisticated, mathematically calculated design together with numerically controlled machines to acheive unparalleled curve accuracy.
10x more accurate than conventional lens designs.
Eliminates front curve distortion.

Significantly minimizes peripheral distortion.

Customized design based upon any frame size & shape.

Smooth gradation of power, gentle binocular balance design, and better near vision performance.
Better definition and clarity with a wider field of vision.

A/R coating eliminates reflections & improves acuity.
Highest level of customization (personalized lens).
With the Intellect Free-Form™ lens you will provide your patients the most Advanced Technology in high definition and digitally contoured back-side progressive lenses, giving patients the best possible progressive lens design available in today's market.
Downloads for Free-Form Technology
Progressive Lens Identifier 2007(PDF)
Intellect™ Materials Availability Chart (PDF)
Intellect™ Power Availability Chart (PDF)