Lab Services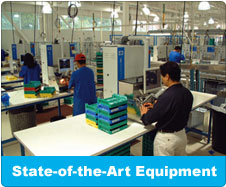 When it comes to fulfilling RX or stock requests, CSC Labs has an unwavering commitment to excellence. CSC has earned a reputation for efficiency, meticulous attention to quality, and superior customer service.
CSC's world-class full-service lab ranks among the nation's top optical facilities. With its new state-of-the art 54,000 square foot lab in Northern California, CSC can fill virtually any RX or stock requirement from a single location—from stock lenses and premium anti-reflective lens coating to fashion frames. Because our labs are equipped to handle any type of order, from start to finish, optical professionals look to us as their preferred single-source vendor.
Our in-house AR coating facility offers premium anti-reflective coatings, including industry standards such as Crizal®, Crizal Alize®, Magnum Strada®, and Magnum®. CSC also stocks all major lens brands—Varilux, Zeiss, Essilor, Sola, AO, Seiko, Hoya, and many more. We also offer our own high quality stock lenses, including our proprietary progressive lens, TotalView®. CSC's extensive frame line includes over 250 popular high-fashion frames from European and Asian designers and manufacturers, including Manzini, Venuti International, 100% Titanium, Wall Street, and Whiz Kid.

We've also optimized the way you do business with us through our on-line Virtual Lab where you can order your RX's 24x7 and track the status of your order any time. Recently, we've also added an on-line shopping system that allows you to order frames or stock lenses.

CSC's superior technology and adherence to the highest standards of quality and customer service make it a trusted name among independent optical retailers nationwide.